We are getting closer and closer to the start of the NFL regular season, so fantasy drafts are happening everywhere. If you're reading this, you probably are one of the many who understands the benefits of drafting a quarterback later in your fantasy drafts, but that is even more true this year.
There are more than 20 starting caliber fantasy quarterbacks this year, so in a 12-team fantasy league, there's really no need to speed a super early pick for your quarterback. So while you're already planning on drafting a quarterback late, let's go over a few bold predictions that might change your perception of which quarterbacks to target.
To be fair, these aren't necessary the boldest of bold predictions. Each one is firmly grounded in reality, but to most fantasy pundits, they could seem downright outrageous.
So let's start pretty bold.
First, not my QB1…
Tom Brady will finish outside the top 5 fantasy QBs.
So again, this isn't necessarily super bold, but considering Brady is the #1 or #2 fantasy quarterbacks on big boards, for Touchdown Tom to finish outside the top 5, it would be pretty bold to say he falls outside of the top 5 would be pretty bold.
And let me caveat: I'm not predicting an injury with Brady.
But now that Eric Decker has announced his retirement, Brady's wide receivers for the season's first four games are basically Chris Hogan and a bunch of question marks.
But then with the likes of Russell Wilson, Drew Brees, Aaron Rodgers, Andrew Luck, and others, it wouldn't be a shock to see four other quarterbacks pass Brady's numbers at the end of the year.
Next, a surprising rookie QB to target…
Baker Mayfield will be the #1 fantasy quarterback.
So again, maybe this isn't that bold considering the Cleveland Browns selected Mayfield with the #1 overall pick in the 2018 NFL draft. But considering Baker is the third (or sometimes fourth) rookie QB in fantasy rankings, it is fairly bold to say Mayfield surpasses the likes of Sam Darnold, Josh Rosen, and Lamar Jackson.
For one, Baker has the best supporting cast of offensive weapons around him. The Jets, Bills and Ravens are surely jealous of an offensive unit with the likes of Josh Gordon, Jarvis Landry, David Njoku, Carlos Hyde and Duke Johnson.
At the same time, Baker is also playing behind an NFL starting QB in Tyrod Taylor to start the 2018 season. That's where this prediction gets bold.
Baker is going to be the Browns starting QB by Week 4, after Tyrod unsurprisingly struggles against the Steelers and Saints defenses and then surprisingly fails to find success against the New York Jets defense. Baker takes the job in Week 4 and runs with it, and puts up numbers greater than his fellow rookie counterparts.
Finally, a group bold prediction…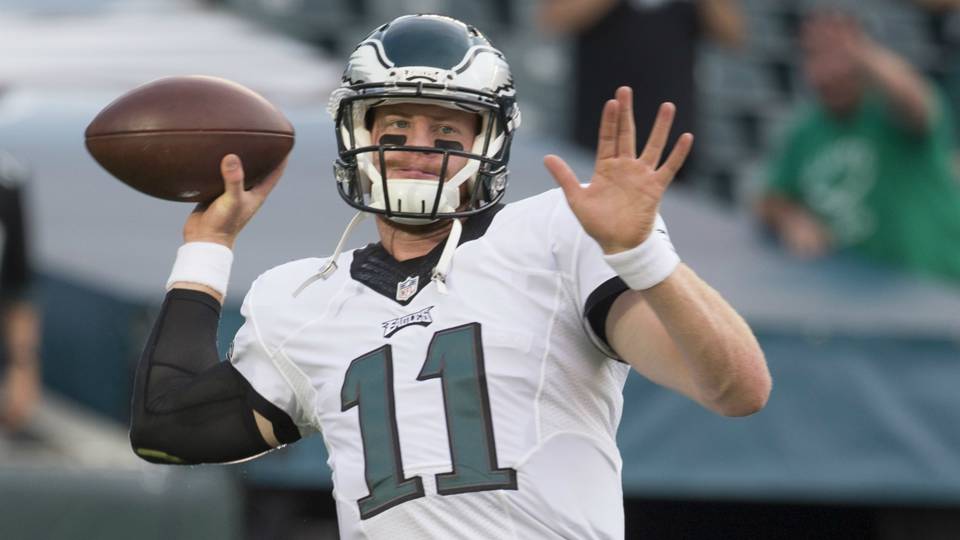 4 of the top 5 quarterbacks finish outside the top 5, and 4 of the top 10 finish outside the top 10.
That's easy to say, right? "Four of the top five quarterbacks will finish outside of the top five." But which ones? Well, I'll tell you:
Tom Brady (we've covered him), Deshaun Watson, Cam Newton and Russell Wilson will all fall outside of the top 5, leaving Aaron Rodgers as the only QB to finish close to his predicted ranking.
Watson just has not proven over a sustained period that he is the real deal. Russell, like Tom Brady, has lost a lot of his key offensive playmakers. And Cam seems to be losing a new offensive lineman every day.
But let's take it further. I say four of the top 10 don't crack the top 10 at all. Which ones?
The aforementioned Watson, plus Carson Wentz, Kirk Cousins, and Matthew Stafford.
Wentz hasn't shown he's fully healthy. Cousins, while he has great receivers around him, will be one of the NFL's best defenses and will be handing the ball off to one of the most promising young running backs in the league – he just won't have the volume. And with the addition of Kerryon Johnson, maybe this will finally be the year the Lions can develop a running game to take some pressure of Matthew Stafford.
So I'll give you my prediction for the top 10 fantasy quarterbacks at the end of the year:
Aaron Rodgers (GB)
Andrew Luck (IND)
Drew Brees (NO)
Ben Roethlisberger (PIT)
Patrick Mahomes (KC)
Tom Brady (NE)
Russell Wilson (SEA)
Cam Newton (CAR)
Jimmy Garoppolo (SF)
Matt Ryan (ATL)